Below is a gallery of unusual crystals of diamonds including rare diamond crystals and diamond clusters. Raw Diamonds from various countries around the world. These are real diamond that gemstones are made from - not Herkimer Diamonds that are common quartz. Many different crystal forms are available: Cluster of multiple diamond crystals, Macle Twins, Spherical Ballas Diamond crystals. All diamonds are natural crystals, exactly as they occurred naturally in the Earth. No polishing, cutting or alteration of any kind. Most commonly available diamond specimens are from South Africa, Australia, and Democratic Republic of Congo. New diamonds are added frequently, check back often.
All diamonds sold on this web site were purchased from legitimate sources not involved in funding conflicts and in compliance with the United Nations Kimberley Process requiring all uncut rough diamonds to be sealed in tamper-proof containers at the point of origin to prevent smuggled conflict-diamonds from tainting the shipment, and a Kimberley Process Certificate is on file at the U.S. Department of Commerce. The owner, John Betts, hereby guarantees that these diamonds are conflict-free, based on written warranty of Kimberley Process.
To purchase mineral specimens, go to the Online order form.
Half Price Sale on Fancy Yellow Cavernous Diamonds
I acquired these unusual diamonds years ago in anticipation of an article about their unique form. The article was never published. Now I am willing to sell them below my cost. They all exhibit excellent sparkle caused by the cavernous crystal form (= cubic form with depressed convex faces resulting in prominent edges). Most are fancy yellow color, a color grade in the gem industry reserved for highly saturated colors beyond the normal ranges of yellow diamonds. All are naturally occurring diamonds and have not been polished. Most are similar to the two diagrams below.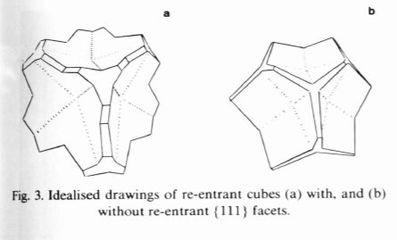 #72206, Diamond (0.89 carat cluster of fancy-yellow cavernous uncut diamonds), Mbuji-Mayi, Democratic Republic of the Congo
$1070 $535


#73544, Diamond (1.01 carat yellow cavernous cubic uncut rough diamond), Mbuji-Mayi, Democratic Republic of the Congo
$1295 $647


#72204, Diamond (0.65 carat fancy intense brownish-yellow cavernous uncut diamond), Mbuji-Mayi, Democratic Republic of the Congo
$760 $380


#72203, Diamond (1.35 carat cluster of fancy intense brownish-yellow cavernous uncut diamonds), Mbuji-Mayi, Democratic Republic of the Congo
$1630 $815
See our other Gem Galleries
---
---

Visit our other galleries with the links below:
New_Minerals_For_Sale_This_Week
My Best Minerals
Featured Galleries
Locality Galleries
Mineral Categories
Molybdates,_Arsenates,_Vanad...
Natrolite_Mesolite_Scolecite etc.
Uncut Diamond Crystals
Half-Price Diamonds
Search All Minerals
on this site